Ultimate Bouncy Castle Party Package
Ultimate Bouncy Castle Party Package
Specifications
Availability
Reviews
No specifications has been set for this product. Please contact us for further details.
Our Reviews!
Terri-louise Griffiths
Faultless service for my sons 5th birthday. Can not recommend this company enough. The product packages are fantastic and the company go above and beyond with a personalised, efficient and friendly service. Taking the stress out of children's party planning! I wouldn't consider anywhere else. Thank you
Becky Kane
Wonderful company, great customer service, couldn't be more helpful. Gave great advice when wasn't sure what products I needed and gave simple easy to follow instructions. Wonderful service will definitely use again.
Charlotte Martin
This is Charlottes original testimonial for us. She brought her lovely children to our Funtime Bourne Christmas Party. Charlotte has since hired bouncy castles for birthday parties and very recently our hot tub party package. Thank you for your custom Charlotte, we truly appreciate it. :-)........................ "Attended one of the Christmas Party's. Kids had an amazing time - thank you . Very professionally run and brilliant value."
Hollie Cooke
I would highly recommend this company! Fantastic customer service, very friendly. Goes way and beyond to full fill your needs! I will be booking another hot tub again in the near future! Thank you so much.
Back To Party Packages
Product Description
Ultimate Bouncy Castle Party Hire In Spalding, Peterborough, Bourne, Stamford And Throughout South Lincolnshire.
One of our most popular party packages, the Ultimate Party can accommodate roughly 25 children. Included in the package is your choice of bouncy castle, 4 X wiggle cars, 4 X space hoppers, a blue tooth sound system and disco lights! This really is more than just a bouncy castle, the Ultimate Party is a full party in a van!
The price shown includes any of our deluxe bouncy castles (priced £70 or below). Additional bouncy castle upgrade charges are shown below:
For a Bounce and Slide Bouncy Castle add £10
For a Disco Bounce and Slide Bouncy Castle or inflatable Slide add £20
For a Disco Dome Party Pod add £30

If booking online, please fill in the booking form and we will get in touch to get your bouncy castle choice.
This party package is available for hire in all areas of Spalding, Peterborough, Bourne and Stamford but if you are outside these areas please do get in touch as we may still be able to help. The Ultimate Party Package is only really suitable for hall hire and not garden parties.
You can book our Ultimate Party online 24/7 using our fabulous online booking system, but should you prefer to speak to a real person, please don't hesitate to give us a ring on 07932 151095.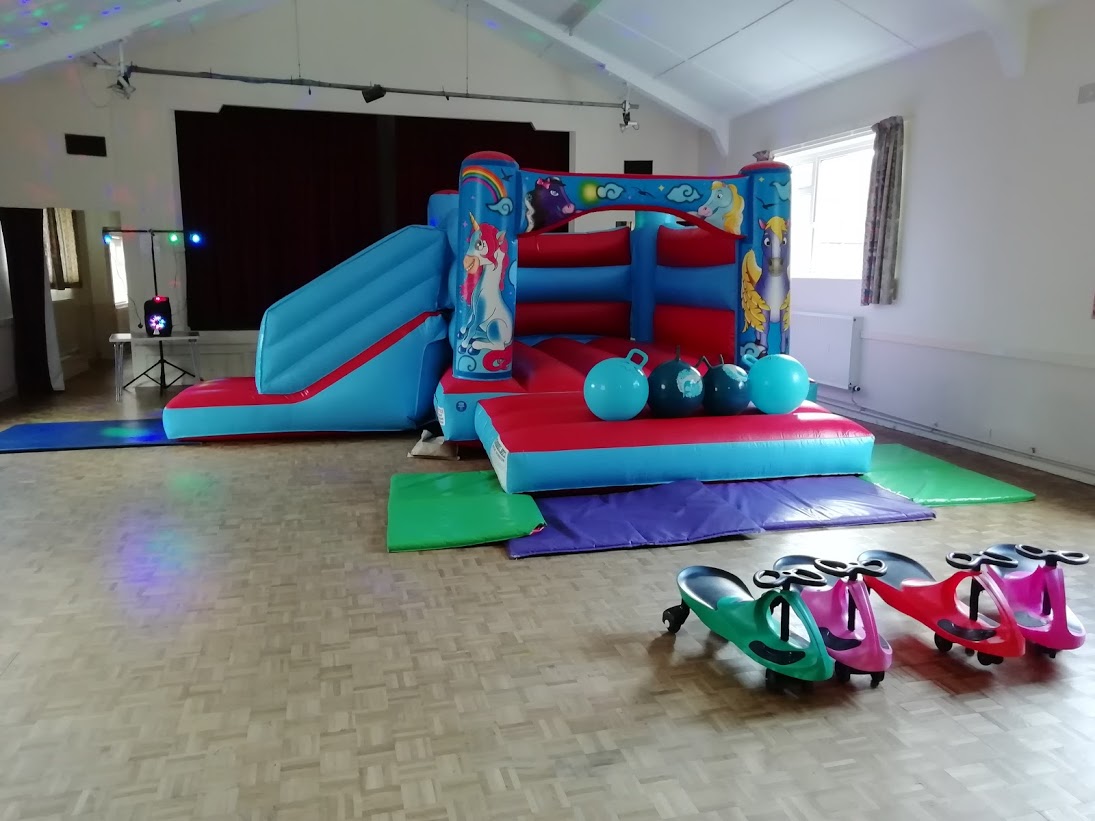 Please note picture above contains a bouncy castle upgrade of £10 for a bounce and slide bouncy castle.