Ultimate Bouncy Castle Party Package
Ultimate Bouncy Castle Party Package
Specifications
Availability
Reviews
No specifications has been set for this product. Please contact us for further details.
Our Reviews!
Lorraine Chandler
Lorraine chose our ultimate party package for her children with the pup patrol bounce and slide, didi cars and sweetie stand. The bouncy castle fitted perfectly in her large venue in Bourne and kept all the children happy for hours! Thanks for choosing us Lorraine :-).................... "Great friendly service, great value for money. Highly recommend."
Suzie Pell
Fantastic company, great value for money. We really appreciate your help in making our little boy's 4th birthday special!
Maria Stokes
I hired the hot tub package for a girly evening and it was brilliant! From start to finish the service has been fantastic. Everything arrived on the day and time agreed, set up and paperwork done. Collection was arranged and completed as agreed. All we had to do was enjoy it! We will definitely do this again!
Back To Party Packages
Product Description
Ultimate Bouncy Castle Party Hire In Spalding, Peterborough, Bourne, Stamford And Throughout South Lincolnshire.
One of our most popular party packages, the Ultimate Party can accommodate roughly 25 children. Included in the package is your choice of bouncy castle, 4 X wiggle cars, 4 X space hoppers, a blue tooth sound system and disco lights! This really is more than just a bouncy castle, the Ultimate Party is a full party in a van!
The price shown includes any of our deluxe bouncy castles (priced £70 or below). Additional bouncy castle upgrade charges are shown below:
For a Bounce and Slide Bouncy Castle add £10
For a Disco Bounce and Slide Bouncy Castle or inflatable Slide add £20
For a Disco Dome Party Pod add £30

If booking online, please fill in the booking form and we will get in touch to get your bouncy castle choice.
This party package is available for hire in all areas of Spalding, Peterborough, Bourne and Stamford but if you are outside these areas please do get in touch as we may still be able to help. The Ultimate Party Package is only really suitable for hall hire and not garden parties.
You can book our Ultimate Party online 24/7 using our fabulous online booking system, but should you prefer to speak to a real person, please don't hesitate to give us a ring on 07932 151095.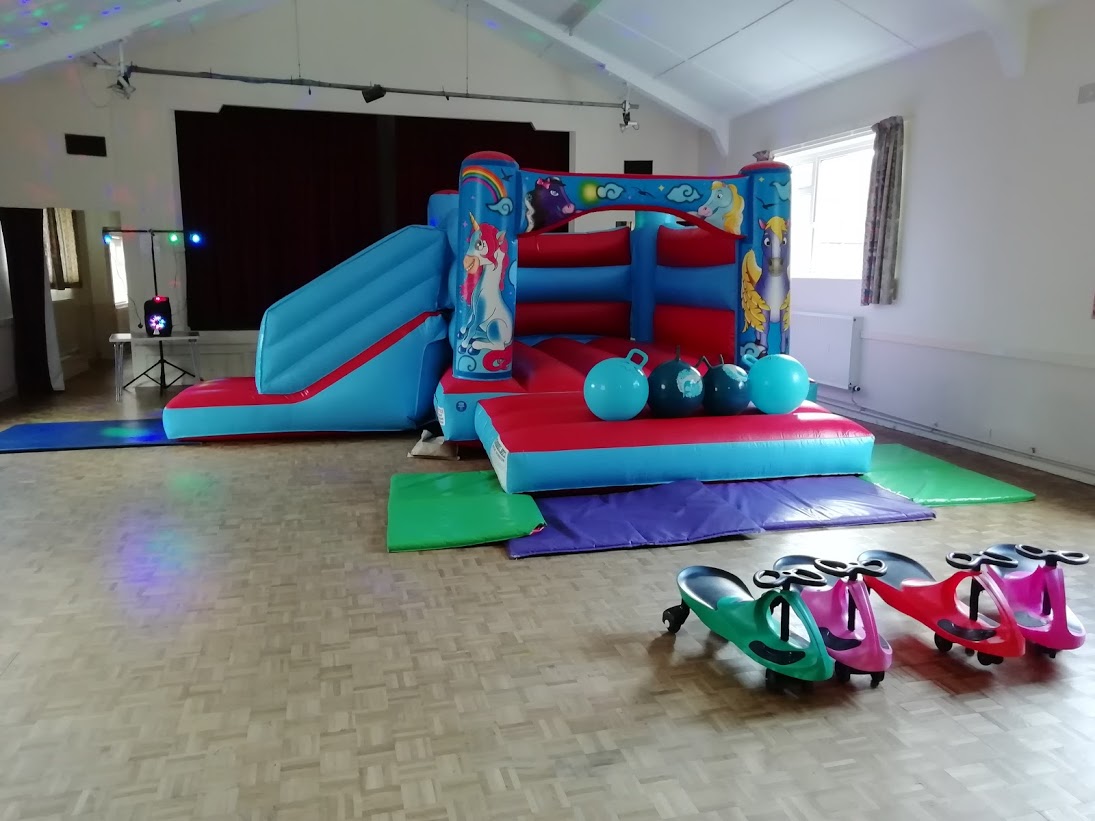 Please note picture above contains a bouncy castle upgrade of £10 for a bounce and slide bouncy castle.